Ambassadors Yiayia Next Door Launch a New Cookbook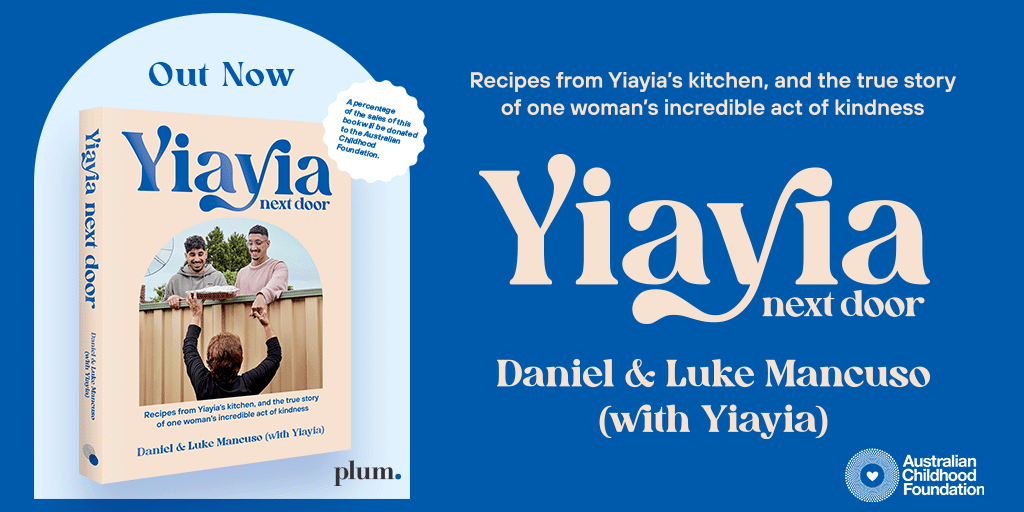 IMPACT

Newsletter April 2022
Australian Childhood Foundation Ambassadors, Daniel and Luke Mancuso of Yiayia Next Door, have been working with Yiayia to bring you their very first cookbook, Yiayia Next Door – Recipes from Yiayia's kitchen, and the true story of one woman's incredible act of kindness
When Daniel and Luke lost their beloved mother Teresa to domestic violence, the Greek grandmother next door stepped in and started looking after them, passing home-cooked meals over the fence. This simple act of kindness helped Daniel and Luke navigate the fog of grief that followed.
Now we can all enjoy Yiayia's home cooking, with this collection of traditional recipes from her kitchen and those of yiayias all around Australia. This is a book about the power of food to bring people together. It's about love forged in tragedy, the importance of connection and how simple gestures, such as giving someone a home-cooked meal, can transform lives and restore hope. The book is available for preorder now, in stores from 26 April 2022.
A percentage of the sales of the book will be donated to the Australian Childhood Foundation.
Click here for a sneak peek recipe from the book.
---
If would like to contact Australian Childhood Foundation directly you can email or call us today.