Ambassadors, Yiayia Next Door,
launch a new cookbook
Yiayia Next Door by Daniel & Luke Mancuso (with Yiayia), Published by Plum, RRP $36.99, Photography by Mark Roper. Available for preorder now, in stores from 26 April 2022.
For further information visit yiayianextdoor.com.au or panmacmillan.com.au
Daniel and Luke Mancuso are the founders of Yiayia Next Door, a social enterprise committed to inspiring kindness and encouraging people to 'love thy neighbour' as the most powerful antidote to violence. When Daniel and Luke lost their beloved mother Teresa to domestic violence, the Greek grandmother next door stepped in and started looking after them, passing home-cooked meals over the fence. This simple act of kindness helped Daniel and Luke navigate the fog of grief that followed, and captured the hearts of Australia when they started to share the meals and their special relationship with 'Yiayia' on social media.
Today their social enterprise supports and inspires communities where people feel safe, and neighbours connect and care. Yiayia Next Door are committed to inspiring kindness and encouraging people to 'love thy neighbour' as the most powerful antidote to violence.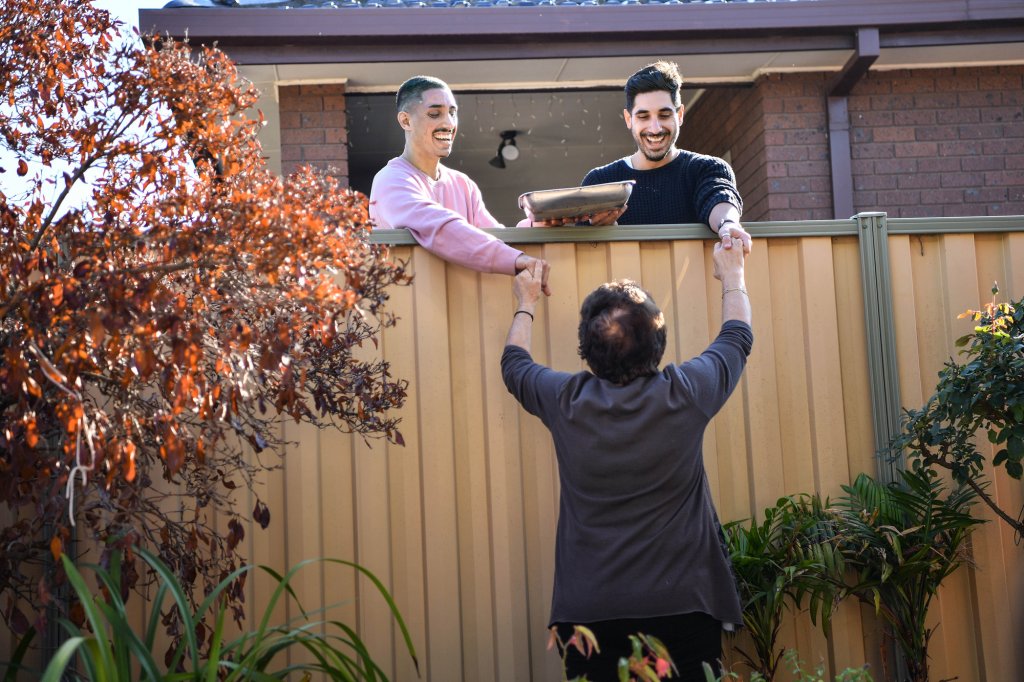 Luke and Daniel became Australian Childhood Foundation ambassadors in 2020.
"To us having a sense of community around you is the foundation of growing up with a kind heart and a healthy & strong mindset. It's what has helped us with accepting and moving forward through the trauma and aching heart of losing our beautiful mother to domestic violence. Being open to your friends and family about your mental health is crucial and makes you a stronger being for doing so. We are honoured and ecstatic to be working with the Australian Childhood Foundation and provide that sense of community everyone deserves."
The cookbook
Now we can all enjoy Yiayia's home cooking, with this collection of traditional recipes from her kitchen and those of yiayias all around Australia. Yiayia's food is pure comfort: pastries such as spanakopita and tiropita; warming soups made with chickpeas, lentils and beans; hearty pasta and rice dishes such as moussaka and yemista; the unmistakable flavours of barbecued lamb and keftedes; and delicious desserts such as baklava and custard-filled galaktoboureko.
This is a book about the power of food to bring people together. It's about love forged in tragedy, the importance of connection and how simple gestures, such as giving someone a home-cooked meal, can transform lives and restore hope.
A percentage of the sales of the book will be donated to the Australian Childhood Foundation. 
Please scroll for a sneak peek recipe from the book below.
Tsourekis tis Anne
(Anne's Greek Easter Bread)
Yiayia's dear friend Anne spent the day with her to share and write down her tsoureki recipe, as Yiayia thinks Anne's Easter bread is nicer than her own. Anne was very happy to give her beloved recipe to Yiayia – a sign of true friendship!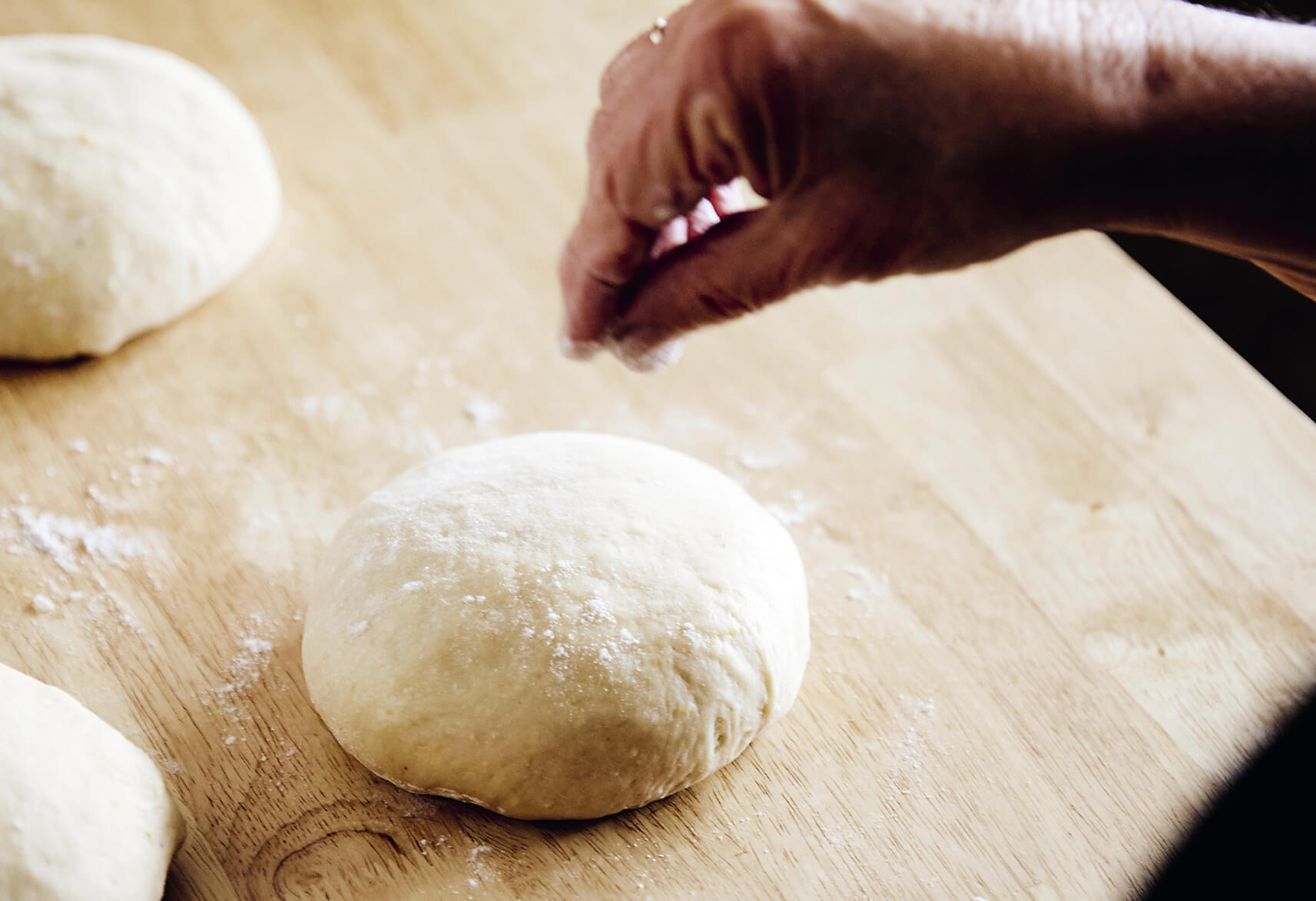 INGREDIENTS
Makes 4 small loaves
60 g unsalted butter
3 tablespoons canola oil
4 eggs
3 teaspoons vanilla sugar
2 teaspoons ground pure mahlepi (a fruity Greek spice made from the inner kernels of Persian cherry stones; available from specialist Greek suppliers)
⅛ teaspoon ground nutmeg
⅛ teaspoon ground cloves
3 teaspoons orange zest
2 teaspoons lemon zest
250 g caster sugar
¼ teaspoon salt
125 ml (½ cup) warm water
65 g fresh yeast
850 g special white flour or 00 flour, plus extra for dusting
2 tablespoons instant dried yeast
125 ml (½ cup) full-cream milk
3 tablespoons freshly squeezed orange juice
1½ tablespoons sesame seeds
METHOD
Melt the butter in a small saucepan over low heat. Add the canola oil and stir it through, then remove from the heat.
Whisk three of the eggs in a large bowl, then add the vanilla sugar, mahlepi, nutmeg, clove and citrus zests and briefly whisk together. Add the sugar and salt and whisk until the ingredients are well combined.
Place the warm water in a large saucepan, crumble in the fresh yeast and stir until smooth. Add 50 g (⅓ cup) of the flour, along with the dried yeast and whisk to combine. Half-fill a sink with warm water, then add the pan, cover with a lid and leave to activate for 10–15 minutes.
Meanwhile, place the milk in a saucepan and briefly warm over low heat for about 1 minute. Stir in the orange juice, then pour the orange milk into the egg mixture, along with the butter and oil mixture and two-thirds of the remaining flour. Mix with a wooden spoon for 1 minute, until completely combined.
Add the activated yeast mixture and the remaining flour to the bowl and mix well until you have a thick dough. Transfer the dough to a lightly floured work surface and knead for about
5 minutes, until the dough bounces back when you press a finger into it.
Transfer the dough to a large clean bowl, then place in a reusable plastic bag and set aside in a warm spot for 2–3 hours, until at least doubled in size.
Lightly grease a large baking tray and line with baking paper.
When the dough has risen, lightly punch the surface to let the air out, then transfer to a lightly oiled work surface. Divide the dough into four equal portions. Working with one portion at a time, divide the dough into three even pieces. Roll each piece of dough into a rope about 2 cm thick. Press ends together, then plait the three ropes together. Repeat the process with the remaining portions of dough.
Transfer the plaits to the prepared baking tray, about 10cm apart, then cover with a clean tea towel and set aside to rise slightly for 1½–2 hours.
Preheat the oven to 200°C (180°C fan-forced).
Whisk the remaining egg with a splash of water and glaze the plaits. Sprinkle with sesame seeds on top, then place in the oven and bake for 20-25 minutes, until golden brown.