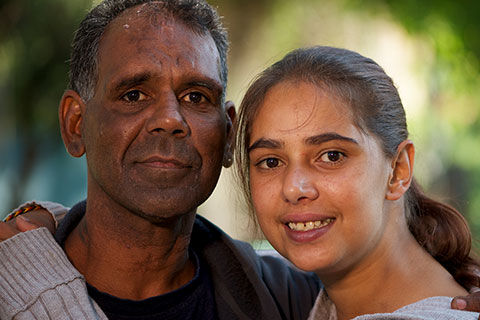 Our therapeutic, culturally strong care program for grandparents, aunts, uncles and extended families in Perth
Woon-yah Ngullah Goorlanggass means 'Caring for Our Children' in the Nyungah language of the South West of Western Australia and it is a special program that provides direct therapeutic support to 10 Aboriginal extended families in Perth who are looking after 40 children who cannot live with their parents because it is not safe. The carers are all grandparents who are worried about their grandchildren and are stepping in to make sure that their families are not split up. The program supports carers to tell the story of their family, how children have come into their care and draw on their own strengths to be able to offer their grandchildren experiences that heal the loss and trauma from their past. So far, these children have increased the number of days they go to school each day. The grandparents feel more able to understand what their grandchildren need from them. The relationships within the families have been supported and are now calmer, more respectful and more open. Communication from grandparents has also improved. 85% of children have stopped showing the intensity of the trauma behaviour they were showing before the program started. It is a program that is changing the way that kinship carers need to be resourced and helped.
Supporting Catholic schools in East and West Kimberley regions, WA
We are working with six Catholic Primary Schools to train and support teachers to be able to assess trauma in the children in their classrooms. This requires very sensitive and detailed collection and analysis of information. Trauma stops children from learning. It makes going to school unrewarding. Traumatised children zone out in class. They find it difficult to focus and concentrate. When informed and empowered, teachers are able to make a real difference to students who have suffered abuse and family violence. They adjust classroom routines, help students to stay calm and use different ways of communicating that make accessing new information for these students much easier. Teachers are reporting greater confidence in their own knowledge about trauma. They also describe how students are starting to be more engaged at school. They have also seen a change in parents and families asking the school for support to keep the learning going at home. The training has supported more than 300 students across this remote region of Australia.