The Junior School Council Leaders, Scarlett and Declan at Montrose Primary School hosted a 'popping bubbles' fundraising day at the school on Friday 13 September 2019.
"Every child deserves love". Scarlett one of the Junior School Council Leaders said
"I thought it was really unfair that some kids don't get love and others do. I felt it was really unfair and wanted to help them." –  Scarlett added.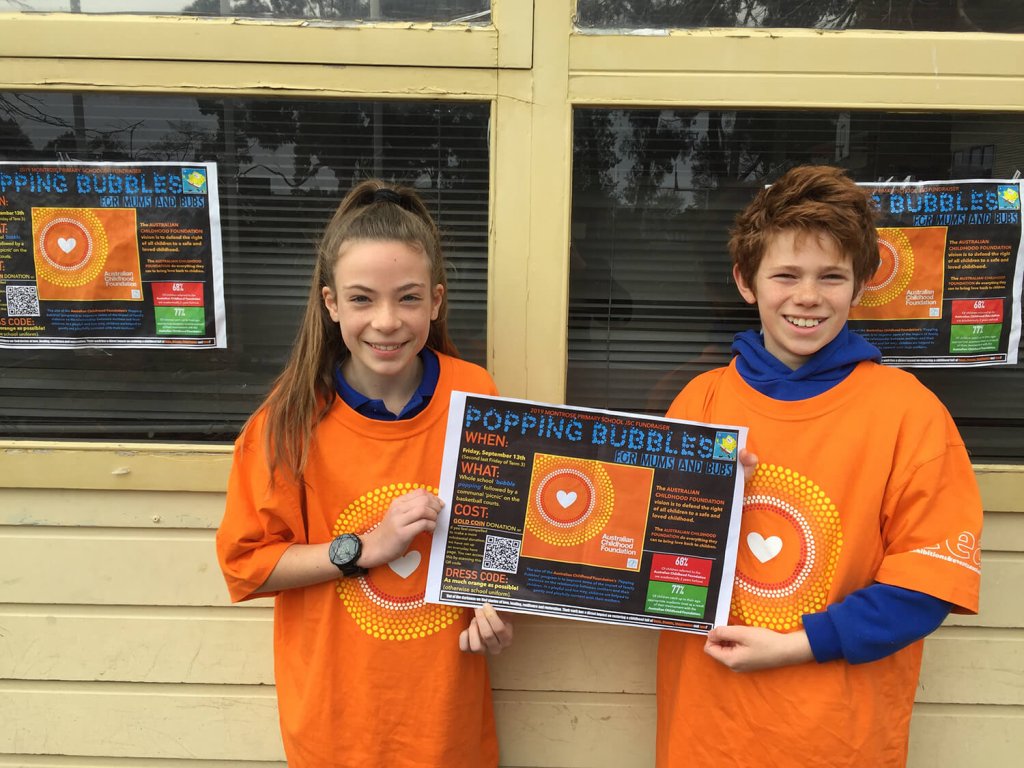 Popping Bubbles – the name of the program- is a playful metaphor used as the basis of the program to symbolise the release of the traumatic effects of family violence in the brains and bodies of mothers and their infants. It engages the attention of infants and their mothers in activities that involve collaborative activation and regulation which is at the heart of attuned and co-ordinated intersubjective experience.
The voices of infants and young children often become lost in the chaos and uncertainty of family violence.
Popping Bubbles delivers staged therapeutic intervention to women and their infants at the following three key developmental points: 6 months, 2.5 years and 5 years. The program uses lovely connecting activities associated with chasing, hunting, making and popping bubbles to support the mother and infant to bond together after they have both experienced the danger and violation of family violence.
When Scarlet and Declan initially started their quest for a cause to support, the Australian Childhood Foundation 'Popping Bubbles' program sounded like a program they really wanted to support. They felt compelled to rally their fellow colleagues and the entire school students to help make a difference and support the program in their own way. Resulting in full fundraising day at the school, with students wearing orange on the day as tribute to the colour of the foundation brand, whilst bringing a gold coin donation to support this important work.
We are warmed by the passion and commitment of all the students at Montrose Primary School and their school for their support.  It is this kind of community support and fundraising that helps the Foundation's programs to continue the good work of supporting traumatised children.
Thank you to Scarlett and Declan the Junior School Council Leaders and all the school's students and everyone that got involved at Montrose Primary School Popping Bubbles Day.
To learn more about the Australian Childhood Foundation and how our programs support children affected by neglect, abuse or family violence visit: www.childhood.org.au
Would you like to host your own fundraising event at your school, workplace or community group?
Whether it's big or small, we would love to hear from you.
Contact us by email: fundraising@childhood.org.au,or call us on: 1300 381 581.