BIG LOVE LIGHT Walk 2019 Childhood Defenders Take on Melbourne CBD
Symbolizing A Life-Changing Movement for Children
The Australian Childhood Foundation joined forces with Melbourne Central and the GPT Foundation to host the Big Love Light Walk on Thursday 10, October 2019.
With the aim to inspire the community to stride the city of Melbourne holding love lights in a powerful pursuit to defend children from family violence and abuse.
Big Love Light Walk is a major, public event for the community to come together, and showcase their willingness to defend children impacted by neglect, family violence and abuse.
Initiated in 2017, Melbourne's first B
ig Love Light Walk had participants walking along the Melbourne Yarra River. This year, the Australian Childhood Foundation and Melbourne Central took the walk to Melbourne CBD streets, uniting the community and fellow childhood defenders as a force for good to help make a difference in the lives of children.
The Australian Childhood Foundation CEO, Dr. Joe Tucci said "In partnership with GPT and Melbourne Central we're delighted to promote the Big Love Light walk. In 2017 the walk was initiated to celebrate children across our country. Through joining forces, we involve children in a community that truly values them, their childhood, and ensures their safety and protection. Over time we envisage thousands of walkers across Australia, signifying our campaign and importance of children."
Chair of the GPT Foundation, Jaclyn Rowan said "The campaign is a natural fit for us – Melbourne Central host millions of Australians every year, enabling us to respond to community challenges on so many levels. We support credible causes with long term impact, focusing on youth at risk, mental  health, homelessness, and child wellbeing. We're privileged to raise awareness around the importance of childhood and prevent family violence through the Big Love Light Walk."
Over 300 participants walked the streets of Melbourne City in solidarity, holding sparkling love lights, towards the walk finish point at Melbourne Central's Shot Tower for the after-party celebration.
Headlining the after-party at Melbourne Central's Shot Tower was KIAN – an Australian born powerhouse voice with lyrical vulnerability and wisdom beyond his years. His hit single, 'Waiting', soared to the top of the Spotify charts in 2018.
The after party was a true celebration of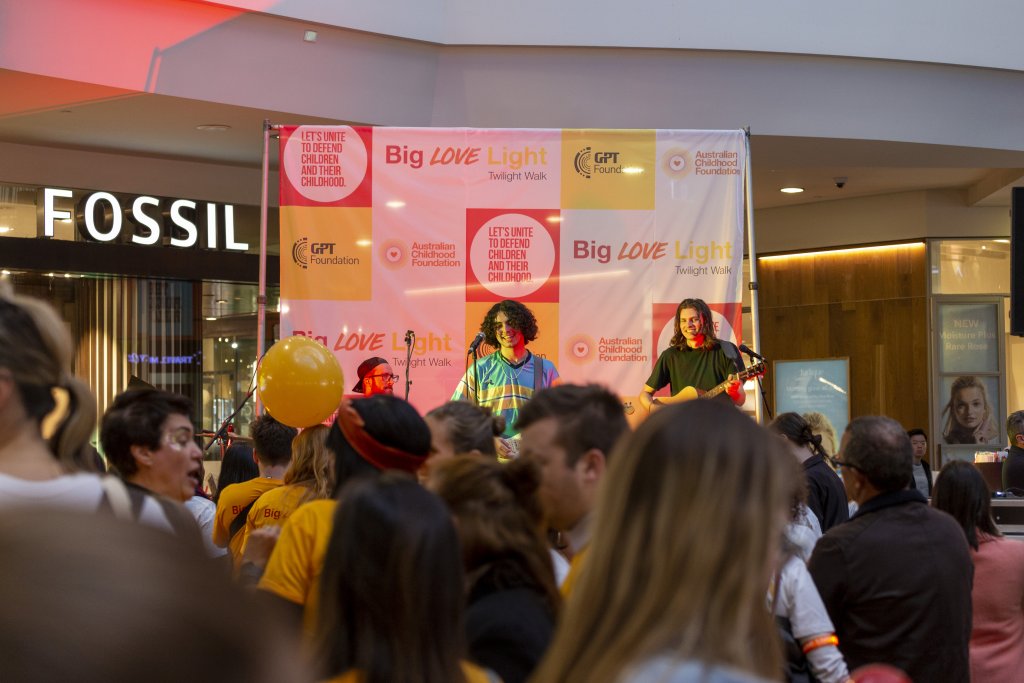 children and their childhood. KIAN stepped up to the stage with an exclusive memorable performance for all attendees. After KIAN's performance, the exclusive celebrations continued with face art, an inflatable Instagramable photo booth, and all was topped off with an epic of hear shaped balloons that dropped under the Melbourne Central Shot Tower cone.
Thank you to our partners, volunteers and everyone that joined us this year at Big Love Light.
All proceeds from the walk will support our work bringing love and safety back to children recovering from the trauma of abuse, neglect and family violence.