Conducted before Victorians entered the tough stage four restrictions, the national report shows that one in four parents felt they were already failing their children and more than a third stated they had lost confidence in their parenting abilities.
Dr Joe Tucci, the Chief Executive Officer of the Australian Childhood Foundation and lead author of the report said the  Lasting Legacy research has highlighted the need for a renewed focus on addressing parental well-being and supporting families as they navigate their way through the pandemic.
The everyday lives of children, families and communities have been significantly affected by COVID-19. Our sense of normality is most often associated with predictability, routine and a rhythm to how we live our lives. Changes to the way we live, the way we learn and the way we work bring inevitable stressors, concerns and threats to our health and well-being. Family life has been impacted significantly.
You can download the full report below.

The Australian Childhood Foundation would like to acknowledge the support of Lewers Research for undertaking the research on our behalf. The Lewers Team were wonderful and professional to work with.
In the media
Key insights
• During the COVID-19 lockdown, children have relied more on the care and support of parents who themselves have struggled to cope
• Parents are more likely to access family and friends for support
• Contracting COVID-19 is understandably on the minds of many parents
• Parents are worried about the immediate impacts of COVID-19 on their children's well-being
• Parents are also worried about the long-term consequences of COVID-19 on the mental health and well-being of their children
• Overwhelming numbers of children felt the impacted caused by the loss of friends, family, and usual activities
• Many parents are worried about the impact of COVID-19 is having on their child's education
• COVID-19 has increased children's screen time and parents worry about their children's safety online
• Positive strategies were the most important for parents to manage their behaviour during COVID-19 lockdown
• COVID-19 has made many parents rethink their approach to parenting and family life
• Many families plan to continue doing some of the things together after the lockdown ended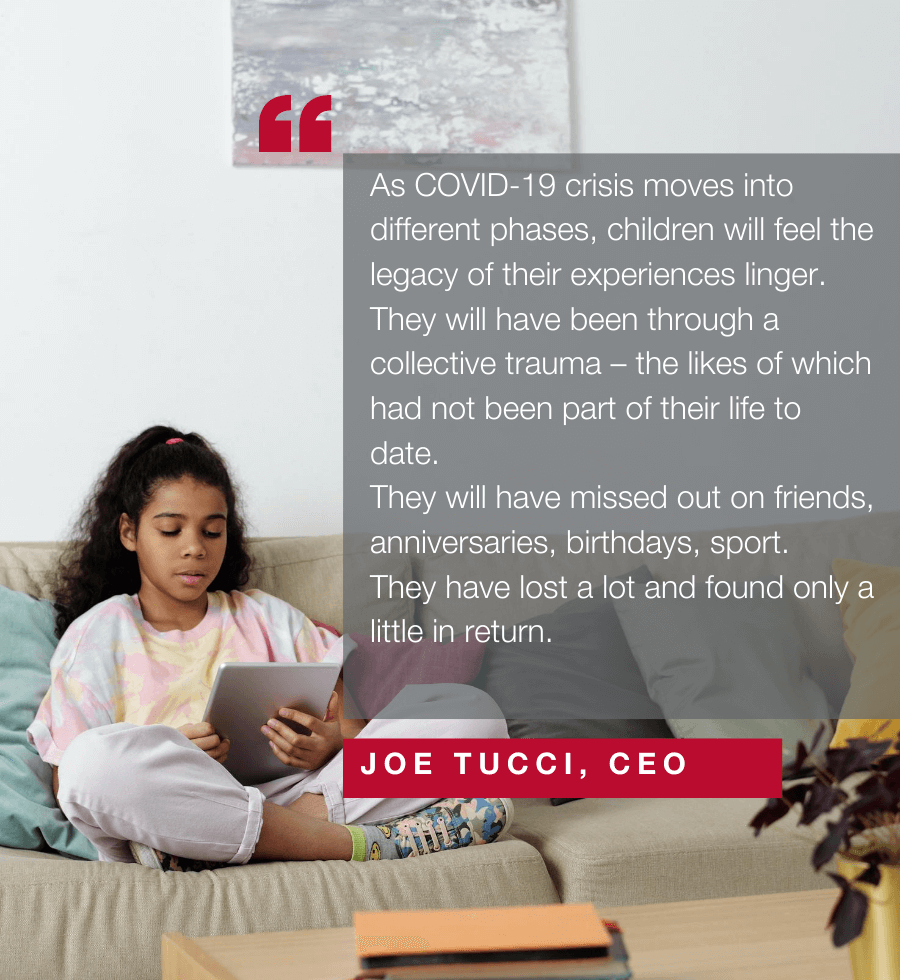 A Lasting Legacy Report
Download A Lasting Legacy report
Media Release
Download our media release for an overview of the A Lasting Legacy report.