Josh is a teen who has endured more heartache than most of us will ever know. He first went into care at just three years of age. Please read his story and join us in giving hope to children struggling to recover from family violence this Christmas. 
Josh was exposed to trauma very early. His family life was often unstable. Sometimes he was exposed to violence, and neglect. At the age of three, he was placed in care for the first time. It would be just one of many homes, with the constant disruption adding more to the impact of the abuse he suffered.
Children who haven't had peaceful loving relationships can struggle to know how to change the way they feel. They struggle to trust and don't find it easy to accept love. They don't have the language to express their feelings.
But Josh got lucky. At age six he found a family that matched his needs when Lynne and Matt offered him a placement. They were a loving stable family from country NSW with two children of their own. Soon he could settle down into a new role as a big brother. Josh felt comfortable enough to show his true self – a funny, caring, and creative boy with lots of potential.
At thirteen, Josh said he was the happiest he had ever been with Lynne and Matt, and even started calling them Mum and Dad. He took a lot of pride in teaching his younger siblings how to ride bikes, build Lego and make origami. It was going so well that Lynne and Matt decided to apply for Guardianship of Josh. He was thrilled at the news. Finally, Josh had found his forever home and a sense of hope that he hadn't felt before.
And then some things changed because of this decision. Josh began feeling confused. You see, he also had four biological siblings and they had all chosen to return home to their birth parents when they turned seventeen. They expected him to do the same. He didn't know where he belonged.
When children and young people don't have the words to talk about their trauma, it can manifest in other ways like distress, outbursts and feeling angry and sad.
Over the next six months, Josh experienced many big feelings that he found hard to contain. He often left his home without explanation, sometimes overnight without anyone knowing if he was safe. Josh stopped going to school. When catastrophic bushfires roared through their community, they had to evacuate their home before it was burned to the ground.
Can you imagine how hopeless it must have felt for Josh? It's not surprising that he reacted with behaviours that seemed destructive and so upset. Josh was terrified but didn't have the words to tell anyone.
The specialist staff at Australian Childhood Foundation have the skills to support young people in crisis and their foster families.
When we received the referral to support Josh there was a concern for Josh's safety, and that his placement was becoming unstable. Matt and Lynne couldn't keep Josh safe. Naturally they felt that they had to protect their younger children. Josh had to stay in emergency placements including a residential facility.
We continued to work with his foster family, in addition to supporting Josh. Over time Josh learned to trust our specialist therapists. He told us that he desperately wanted to go home to Lynne and Matt, and his brothers and sisters.
A hopeful ending, for some.
We're proud that we were able to facilitate a meeting with all the children to discuss their feelings. Our specialist therapist engaged them in storytelling about their relationships and their incredible bond. We created a therapeutic plan to respond to Josh's trauma in a way that created understanding and new meaning to his behaviours.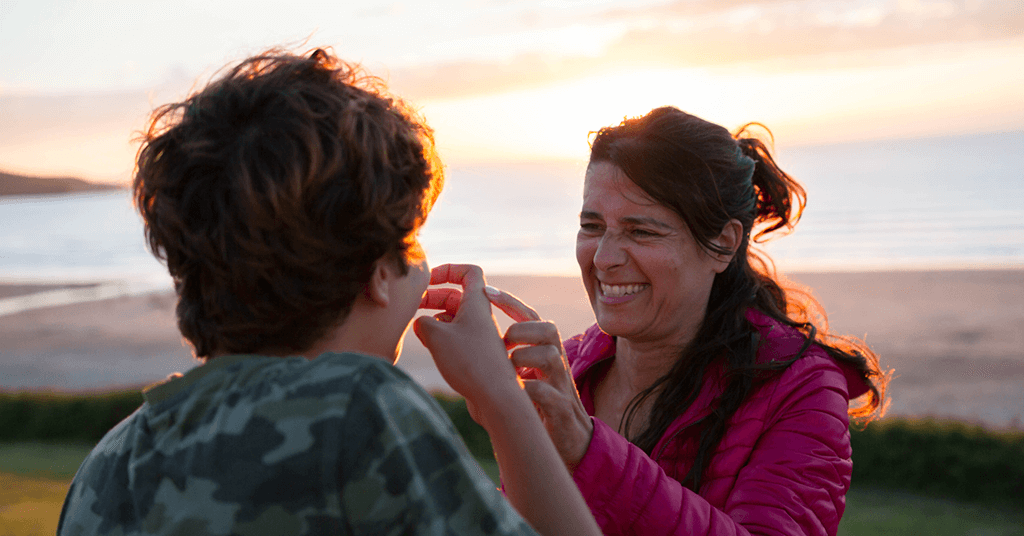 Together, we found a way to help Josh home to Lynne, Matt and his foster siblings by Christmas. All the children are now stable and connected. They look forward to sharing the festive season together, and hope there will be many more celebrations.
This year not all children will have a safe and happy Christmas. Will you join our mission to spread hope?
Children should never be responsible for healing their own trauma. They need loving, informed and empowered adults to nurture them. They need generous supporters like you to fund that important work.
Your charitable gift will help us support more children like Josh who desperately need specialist help.
Activities for exploring and strengthening relationships
Inject a little more joy into your Festive Season.
* Names have been changed to protect the identities of children. Thank you for your understanding and support. If you, or someone you know is in immediate danger, please call 000 and ask for Police. For confidential support regarding family and domestic violence, please call 1800RESPECT (1800 737 732).