Liam grew up hungry and neglected. Liam's life was further complicated as he has a disability. This meant he couldn't communicate, couldn't ask for help. There wasn't anyone close to him that could understand his needs.




Family violence is causing so much pain and heartache for kids like Liam.
Dear supporter,
This is the time of year I write to ask you for a tax-deductible donation, because you care about the profound impact of family violence and abuse on children. I always share a story of a child who has had a particularly tough time to help you understand our latest work.
It's hard to choose just one story. If you could see my desk, you would see the many reports from our therapy teams about children across the country suffering neglect, abuse, and trauma. I have included one such summary of a report on a very special young person, to help provide you with insight into just how our team work with children.
There are so many children who need your help now.
The last two years have been heartbreaking and uniquely challenging for families. COVID has created a time of uncertainty, job insecurity, illness, fear, and prolonged periods of isolation. This year families have been confronted with more and more pressure, increasing the levels of stress and strain families and children experience.
Unfortunately, for thousands of Australian children, those stresses will lead to circumstances that results in experiences of deep trauma and violation. So it is no wonder we are experiencing a huge increase in the demand for our services. Your donation will help us to meet this real pressure to provide more counselling and specialist support that these children need so desperately.
It's particularly hard to know that children with disabilities suffer even more when they experience violence. They struggle to communicate. They find it hard to understand themselves and the relationships around them. And they feel like no one understands them.
Liam is one of those children. His trauma began before he was even born. Liam's mum had a traumatic past herself, and she medicated her pain with substances. He was born deaf, along with other physical issues.
When children don't have the words to talk about their trauma, it can manifest in other ways like violent outbursts and self-harm.
When Liam was placed into the care of Melanie at eight years old, it should have been a perfect match. You see Melanie was also deaf and a mother of two children. She thought she could support his needs and give Liam a happy home. They spoke the same language – Auslan sign language.
But she didn't realise how challenging it would be. Liam was severely affected by his early trauma. He would have scary memories of flashing police lights and react with extreme distress. He couldn't understand why he reacted the way he did. All the powerful feelings inside him made no sense.
Little Liam showed his pain by punching, kicking, biting, and banging his head.
Melanie needed help. She approached a dozen different support services, but none had the skills to work with Liam's disability and trauma. No one was able to communicate with Liam in Auslan. She felt isolated and abandoned by "the system". They were on their own.
Children in foster care need healthy relationships to help them feel safe, but who supports the foster parents when the needs of children are so complex? The specialist staff at Australian Childhood Foundation do.
When Melanie found her way to the Australian Childhood Foundation, she was exhausted and angry. She didn't know how to react to Liam's outbursts, and her other children were being
traumatised by his actions. She desperately wanted to care for Liam, but the placement was on the brink of breaking down.
Have you ever felt that way? Unheard and not knowing where to turn for help?
Thankfully Melanie met our specialist therapist David. I'm proud to tell you that David really embraced the family. He worked with an Auslan translator to understand Melanie's support needs and did an Auslan course so he could sign a few words with Liam. Together they worked out strategies to help support Liam. When he didn't have the language to explain his fears, David encouraged him to use a sandbox and figurines to show what had happened.
When Melanie had concerns about Liam's negative interactions with her other kids, David developed new coping strategies suitable to his special needs. At last, Liam had a team supporting him to feel safe, and Melanie had a therapist who listened to her concerns and worked with her to find the answers.
Today Liam is doing much better. He is eating and sleeping better. He is acting out less and has started making friends. Melanie has taken him to cultural events in the deaf community like puppet shows with sign language. Most importantly, he allows Melanie to cuddle him, comfort him when he is upset. He has started to let love back into his life, slowly.
Will you help us support more children like Liam who desperately need specialist help?
Family violence has such a devastating effect on children, and if the trauma is not addressed it continues to cause pain, mistrust and disconnection. Without the love and care needed to grow, their emotional and physical development stalls. Healing takes time and resources from expert counsellors.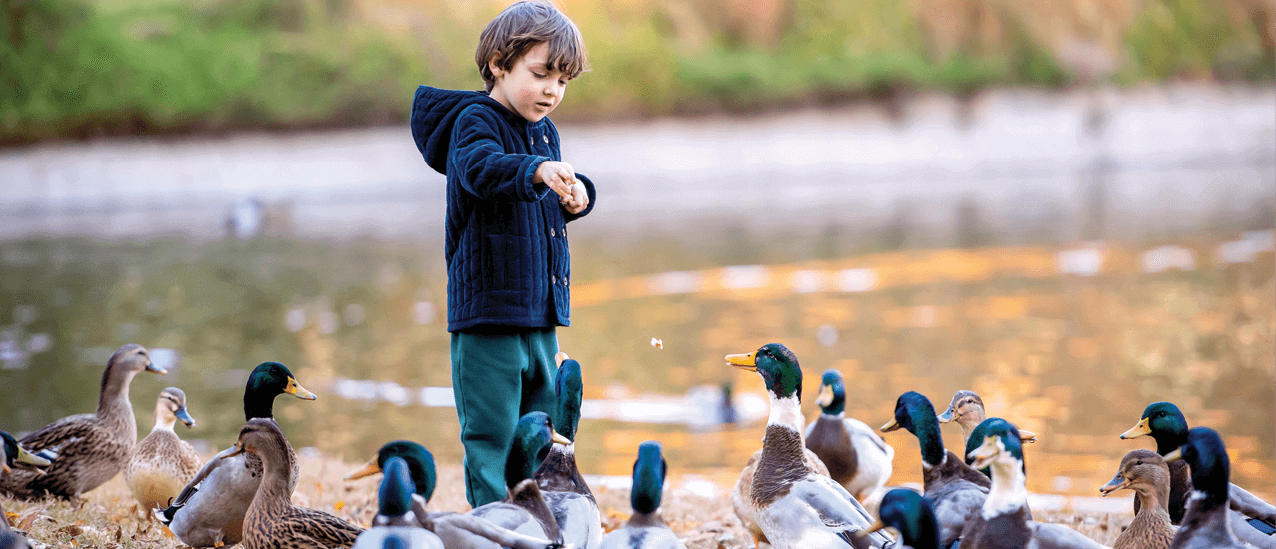 I'm sure you agree children should never be responsible for protecting themselves. They need loving, informed and empowered adults to nurture them. I'm so proud of our staff and the work they do to support remarkable people like Melanie and her foster child.
Unfortunately, Melanie is not an isolated case. She thought she was alone in finding a solution. All of the children and young people we support have unique circumstances. This is why the Australian Childhood Foundation exists.
Thanks to the generous gifts we receive from supporters like you, children like Liam can have a chance at a better life and foster parents like Melanie come to have the knowledge and confidence to know how to better support them.
Children don't recover on their own from the devastating impacts of family violence. But in the current climate, all children need adults to help them to make sense of what is happening around them in a world that feels increasingly dangerous and threatening.
Recently I published an article about this very topic. Our young people are overloaded with images of crises in the world – war, floods, COVID, loss of their heroes. It's unrelenting and they often don't have the tools to process that news the way adults can.
I am honoured to work and support our most vulnerable children in Australia. But I rely on people like you to ensure that the Foundation keeps being able to provide tangible and specialist help. Can I count on you to continue your support?
Thank you for helping us make a difference to our most vulnerable children and young people.
Dr Joe Tucci
CEO
Australian Childhood Foundation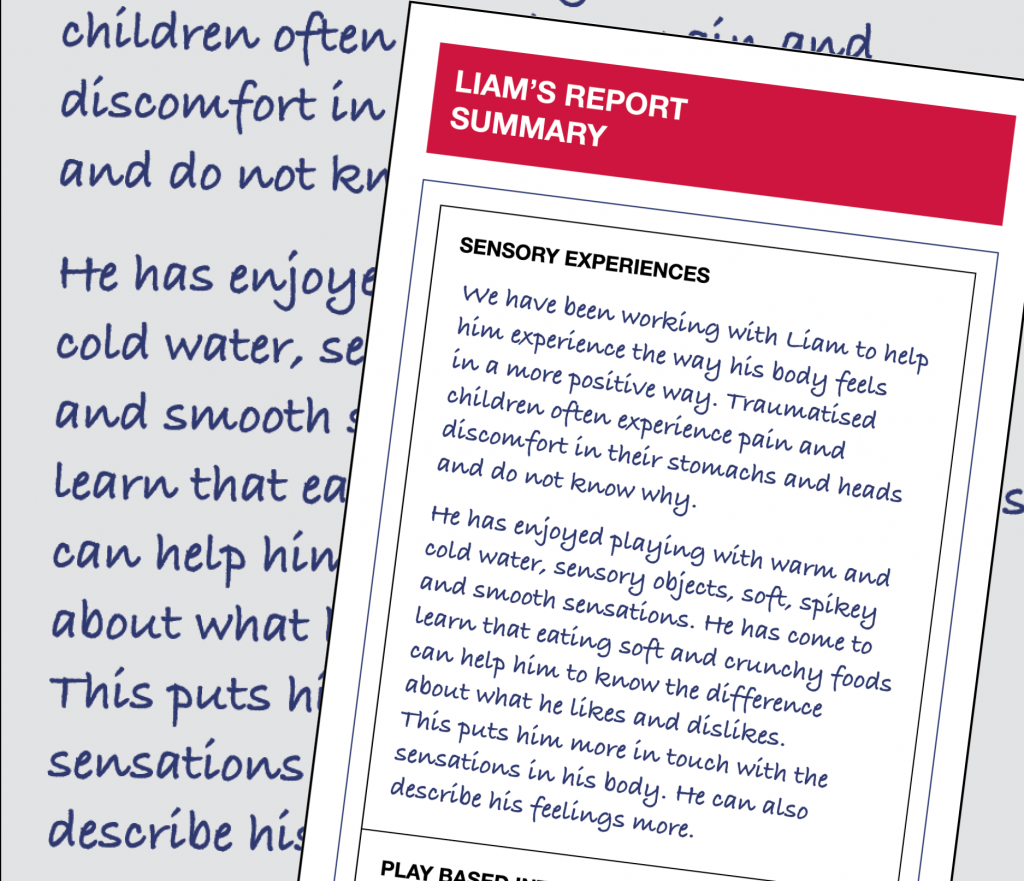 Liam's Report Card
Liam's therapist, David, has shared a recent report summary on Liam to give you an understanding of the work Australian Childhood Foundation does to help children like Liam and their carers.
Read Liam's Report card in the link below.
Help Kids Process Tragedy
Joe Tucci recently published an article titled 'Help Kids Process Tragedy' to help children who have had very little break from a world filled with danger understand what is happening around them.
Read 'Help Kids Process Tragedy' in the link below.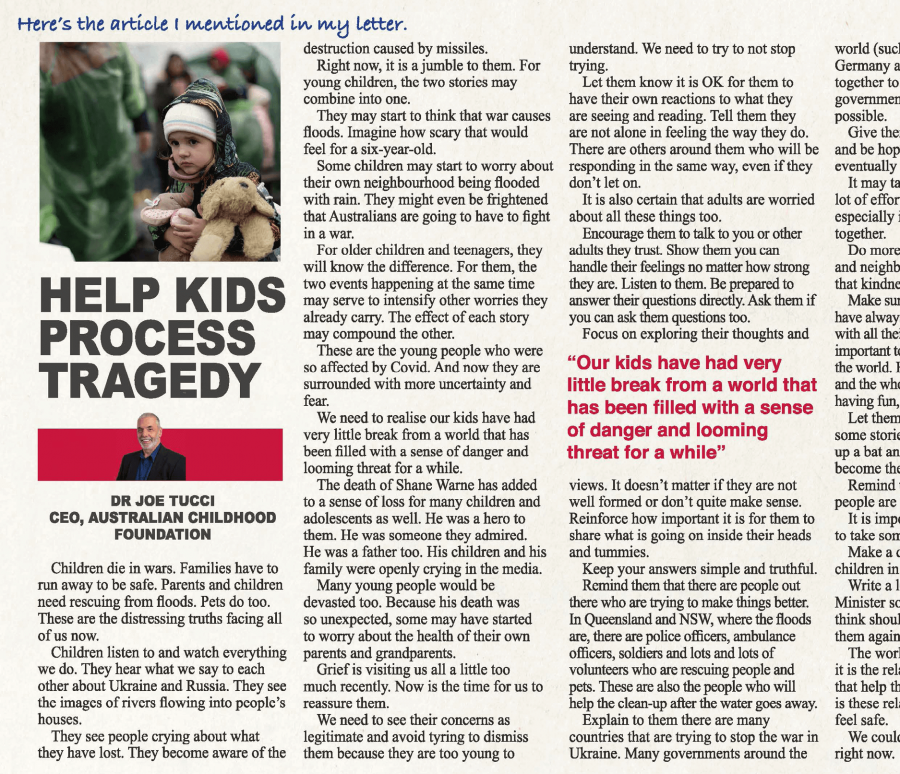 * Names have been changed to protect the identities of children. Thank you for your understanding and support. If you, or someone you know is in immediate danger, please call 000 and ask for Police. For confidential support regarding family and domestic violence, please call 1800RESPECT (1800 737 732).